A Curious Life is a feature documentary telling the story of the Levellers via the eccentric artist, archivist, whiskey loving bassist Jeremy Cunningham's world.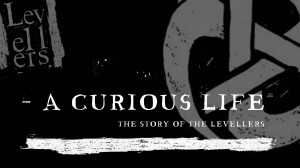 We're very excited to announce the film, and it's been brilliant to see how much interest there has already been in the project. To keep you all updated on the film's progress, we've started a blog! Make sure you're following us on Twitter, for all the latest news about A Curious Life.
In this first post, the film's director, Dunstan Bruce, explains how the project came to fruition…
In November 2010 I was invited to go and film with the Levellers, who were about to embark on a tour for the re-release of their first album, "A Weapon Called The Word". I was asked to do what Steve Farris in the Levellers' office called a "blogumentary", which entailed filming (some or any of) the band each day, editing the footage at night then posting a 5 minute film the next day on YouTube.
As a former member of Chumbawamba I had toured with the band back in 1993 in what was a fantastic experience. Now I was filming them on a day-to-day basis and getting to know them all over again. It was an intense but completely rewarding experience (apart from my first encounter with Simon who embarked on a drunken 20 minute rant about his role in the band, the tour they were currently on, the sleeper bus and the inadequate rider which was all caused by the Xbox on the bus not working!).
These short films appeared online throughout the tour and the immediate feedback suggested that there was one character fast becoming the people's favourite because of his humour, his ease in front of the camera and his downright eccentricity. Jeremy, bassist of the band, was emerging as an absolute star.
I carried on working with the band, producing promotional videos, DVD extras, films to show before their live performances, adverts for tours; in fact anything and everything that the band needed something visual for. As I was spending so much time with the band I asked whether the band would be willing to take part in a documentary that I would direct and produce. They were up for it so I started work on what was to become A Curious Life, Dandy Films' second music documentary.
Three years later the film is all but finished. What started off as an attempt to explore how the Levellers have stayed together for so long turned quite quickly into a film about Jeremy Cunningham the archivist, the historian, the artist, the bassist and the conduit for telling the story of the band and all their ups and downs and their ultimate survival over the last 26 years.
The film is about 80 minutes long now and will see the light of day sometime in 2014 when eventually the world will get know the real stars of the film; Jeremy's parents Brian and Sheila Cunningham. Hopefully it will be worth waiting for… 
Dunstan Bruce
Director