When I was in the band Chumbawamba the process of writing songs for a new album was a pragmatic, democratic process. We would talk for hours about what we wanted the album to say as a whole, we would explore themes, ideas, moods, sounds, influences whilst discussing the current political climate, in fact we were probably debating what was "trending" but nobody used such a wanky term back then. We would come up with musical and lyrical ideas, attempt to turn them into beautifully constructed songs, collate enough of them and when we felt we had explored our given concept for that particular album enough we would call it a day and get on with the job of putting the whole thing together as a piece, a work of creative art,a collective statement that we were proud of and happy with but which also we hoped, would touch the listener on a variety of levels. We hoped it would communicate something emotionally, musically, politically and maybe inspire or move someone or just give someone an enormous amount of pleasure. Not much to ask.
But then there were the b-sides.
We would always end up with a few songs that didn't quite fit in, that didn't quite convey a message well enough, that weren't as well constructed, were poorly executed, too twee, too obvious or just not that memorable. And we would sit in a meeting and eventually someone in the band would sound the death kneel "we could use it as a b-side maybe?'
And that was it; songs rarely recovered from being labeled as such, seldom did they spring back to life and end up being track one side one openers or live favourites. They were functional, not-as good-as-the rest fillers and they'd invariably end up on some obscure benefit album, given away for free to some unsuspecting worthy cause only re-surfacing when it was time for the obligatory Chumbawamba "b-side and oddities" compilation album. You get the picture.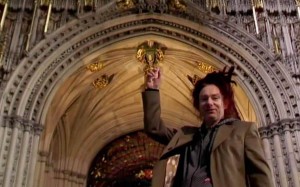 Anyway, I was reminded of that process whilst finally, finally putting this film to bed last week with our online editor, the very wonderful and talented Dave Austin. We were prepping the film for the final online and after masses of tinkering on my half and masses of tidying up on his we sat down to watch the film for one last time. It was at that point that we both had to grudgingly admit that one particular scene, as funny and informative as it was just didn't work where it was. I'd become particularly attached to this scene; one where Jeremy and I go on a tour of York Minster, so we tried it somewhere else. It still didn't work. There was a knowing silence in the room. Dave didn't need to say anything and so with the brutality of a Channel 4 Executive Producer cutting a positive portrayal of one of the residents of Benefit Street I broke the silence and uttered the words "Take it out" So out it went and straight into the deleted scenes timeline, a timeline which is becoming a very, very busy timeline by now.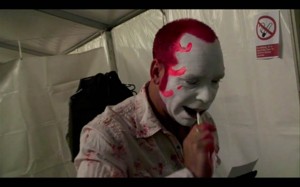 What I've realised in all of this though is that these two processes are not the same. Some of the deleted scenes we have, which will no doubt appear as DVD extras one day, are cracking little scenes full of humour and pathos and revealing anecdotes but if they don't help tell the story you want to tell, or merely reiterate an earlier scene or detract from the main narrative or make the film drag then you've just got to be brutal. So a hilarious scene with didgeridoo player Boakesy brushing his teeth before a gig has also gone. Terry John and Phil Nelson telling us about the wild parties at the Metway in the 90s; gone. Mark performing solo in a wonderful little record store in Lewes; gone. The list goes on and despite these scenes being delightful and amusing they failed the "overall narrative" test.
Don't worry though; one day you'll be able to see them all and maybe you'll think "Why wasn't that in the film?!" or maybe not. Either way, I'm sad that some of those scenes aren't in the film but know that it's for the best. You'll just have to wait for the DVD release later in the year to see if you agree…
Dunstan Bruce
Director