A Curious Tour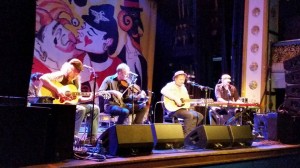 I'm absolutely wrapped up in doing the time-coding on these German subtitles for the DVD release of A Curious Life. It's driving me mad. It's all encompassing. I am seeing lines and lines of German text in my dreams streaming down in front of me like something from that film with Tom Cruise from a while ago, you know that one where he's some kind of cop in the future but then he's accused of murder or something. Anyway the work is not that difficult; it's just laborious. It's taking up every one of my waking moments so when I find out that the Levellers have been rehearsing diligently and are completely prepared for this Curious Tour we are about to embark on I start to feel a tad under-prepared. The idea of the tour is that we screen the film then I get up afterwards and do a Q&A with the audience then that's followed by an acoustic performance by the band. We first did this "format" at the World Premiere of the film at East End Film Festival and it was an absolute success. It maybe was also the moment when we realised that we actually had a film that people loved and this was confirmed at the Brighton screening last November where, despite one of the poorest performances I have ever witnessed by the band, the total and unconditional love in the room saw them triumphantly through.
So here we are at the first show of the tour, Salisbury City Hall and we are working out what's going to happen. We've got a large enough screen but it's right at the back of the stage; it's not perfect by any means but we are still learning as we go along; this is a new venture for us all.
Usually in these scenarios where you do a Q&A with the director of the film there's a host or compere to lead you gently by the hand through this; they shower you with compliments, ask searching and incisive questions, coax out of you some hidden gem of information or hilarious anecdote that makes the experience an enjoyable one for all concerned. John Robb is an expert at this as proven by his cameo performance at the East End Premiere. Unfortunately though John's not on tour with us to take on that role so I stumble on stage all alone before the screening to introduce the film. I make it up as I go along, probably making some reference to Stephen Boakes's comment about "25 years of subsidised dysfunctionality" and let everyone know that I'll be back at the end of the film to do a one man Q&A.
I return after the film to witness half the audience streaming out of the venue to get a drink and visit the toilet. I bravely, if not a tad nervously, launch into my Q&A and to be brutally honest, it's a painful experience. A few fairly random questions followed by the obligatory "When's the DVD out?" enquiry and rounded off by the rather bizarre query "Who was the actor who played Jeremy's dad?" Dumbfounded and deflated I thank the audience and amble off returning to the dressing room crestfallen. I bump into Jon preparing for the show "Are you off to do your Q&A?" he asks brightly. "I've just done it." I reply, limply. He looks astonished. I look sheepish.
To his absolute credit after the show Jon dives into the problem of the Q&A headfirst and pragmatically determines to make the thing work otherwise it's not even worth me being there. He makes me feel a whole lot better about the whole affair and we resolve to make this thing work in Pontardawe.
The next day in Pontardawe it's raining. Well obviously it is; we are in Wales after all. The venue is beautiful. Much smaller than last night, full of character and with proper screening facilities. We "screencheck" the film and it's all good. We work out with Jac and Ian, the Levellers' front of house people how we will co-ordinate the introduction and the Q&A. And we introduce our secret weapon: Jeremy.
After half a bottle of spiced rum I am much more confident with the introduction and I announce that Jeremy will be joining me after the screening for the Q&A. He gets an ovation when introduced to the stage after the film.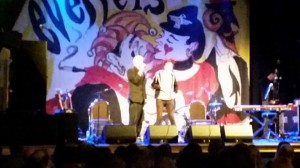 Hardly anyone leaves the room and the questions come thick and fast. Me and Jeremy bounce off each other and the audience love it. Of course we get asked when the DVD is out but we also embrace a fan-led campaign to get Jeremy's mum and dad on Gogglebox!
We eventually leave the stage as we've run out of time and everyone's happy. The Levellers play a blinding set and the night ends up in chaos at the local Pink Geranium pub. Result!
We keep to that formula at the much larger and sold out Malvern Theatre and again it works a treat, the highlight being a woman asking whether she could stroke Jeremy's hair. He obliges manfully. It's another successful Q&A, though it must be said that at least 90% of the questions are aimed directly at Jeremy and might not necessarily be even about the film. No matter though; we are engaging the audience and they're loving it.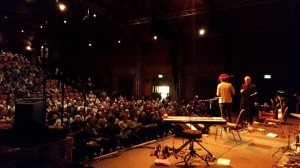 The next day, after an early wake up call and flight to Dublin we have a completely different experience. The film was to be screened in the Irish Film Institute, a venue I had last been to in about 2000 to screen a subsequently shelved film about Chumbawamba called "Well Done. Now Sod Off". I nostalgically mentioned this in my brief introduction and then awaited Jeremy's arrival for the Q&A as he'd flown on a later flight and ironically was stuck in traffic because of a political demonstration against increased water taxes in Ireland. With minutes to spare Jeremy arrives just as the credits are rolling and we have the pleasure of having Sunniva from the Irish Film Institute to lead the Q&A. She's an archivist herself so the conversation, for me at least, is far more interesting and much more about the process of making the film than finding out what Jeremy's favourite Levellers song is [for the record, on this day it was "Barrel Of The Gun" though the previous day it had been "England My Home"; he's a fickle man I tell you].
We chat for quite some time, Jeremy expands on the "sending a turd in the post" tale and then patiently poses for photographs. Job done. I can relax and enjoy the mind-melding nonsense of "Inherent Vice" before we make our way to St Patricks Cathedral for the Levellers performance there. As an atheist it pains me to say what a wonderful setting it was for the band to play and despite a few sound problems within the cathedral it's another amazing show.
By the time we get to Canterbury the following day though we are all a bit tired. Nobody goes to bed early in Dublin and anyway, the bar in the hotel has music blaring till about 3 in the morning. A flight and a minibus ride later we're enjoying the beauty of Canterbury and another beautiful room in which to perform. There are a few problems with the screening but I think we get away with it and the Q&A is 100% questions for Jeremy, mostly about who is and who should be playing at Beautiful Days this year! Jeremy is a star, as usual and I can only stand back and marvel at his wonderful handling of a clearly devoted audience but Tour Manger Phil wants to pull us off as we are running over time so off we go to a rousing reception and yet another triumphant show.
We start on this Curious Tour again on the 24th February and I was pleased to be invited back to do those shows. It took us a few days to actually work out what we were doing but we'll certainly be prepared for this next lot. All those dates can be found here:
http://www.levellers.co.uk/news/a-curious-life-levellers-acoustic-2015-tour